Judging Beers at Vail's Big Beers, Belgians and Barleywines
This past weekend I had the opportunity to attend the Big Beers, Belgians and Barleywines Festival (in their 15th year) for the first time.  It's primarily been a crime of omission on my part for not attending this excellent event prior to this year.  I always had something else the same weekend, or in some earlier cases, heard about the fest too late to acquire tickets.  I quickly learned this was my mistake.  What a great fest!  The opportunity to sample fantastic beers from all the brewers at the commercial tasting, combined with a few rare gems hiding behind their tables (1994 Triple Bock from Boston Beer Company for example), makes for a fun time with over 1500 attendees!  I attended an excellent seminar on beer recipe formulation and evaluating / cloning commercial beer styles as well that was extremely interesting.  In that seminar, the brewers for 3 of the 4 beers evaluated were there talking about the recipes they use, along with processes and philosophies, such as why they chose a certain hop or why they add certain types of malt to their beer.  It was a real treat.  Big, big thanks to Laura Lodge and her Big Beers team for the fantastic experience and kudos to the Evergreen Lodge for the comfortable lodging.
However, before we had all the fun at the tasting Saturday night, there was the homebrew competition the day before.  During the welcome reception on Friday I was informed that they needed additional judges to help evaluate the 300+ homebrews entered in the competition.  They asked a few media people to assist with the judging, myself and Ryan included.  It was a solid 6-7 hours of judging beer; from the initial setup to the final determination of the Best in Show beer.  Full results can be found here.Let's talk about judging for a minute.  I've been judging for a while.  I am currently awaiting my ranking results from the BJCP certification exam I took in December.  I got into judging through my homebrew club, The Brew Brothers of Pikes Peak.  I volunteered to steward a competition or two (stewards enable judging by bringing the beers to the judges and tallying scores, among other things), and then was asked to help judge since I had an interest and they were short on judges.  You may be thinking, 'How does that work if you are not an official judge?'.  I'm glad you asked dear reader!  I'll go over the process, and then get into my experience and impressions on judging beer.How does judging work?Judging beer is most often conducted based on BJCP style guidelines.  These guidelines encompass 23 different style categories (for beer) which are further broken up by individual styles.  They include Light Lager, Pilsner, European Amber Lager, Dark Lager, Bock, Light Hybrid Beer, Amber Hybrid Beer, English Pale Ale, Scottish and Irish Ale, American Ale, English Brown Ale, Porter, Stout, IPA, German Wheat and Rye Beer, Belgian and French Ale, Sour Ale, Belgian Strong Ale, Strong Ale, Fruit Beer, Spice/Herb/Vegetable Beer, Smoke/Wood-aged Beer, and Specialty Beer.  For an example of individual styles within a category we can see that Witbier, Belgian Pale Ale, Saison, Biere de Garde, and Belgian Specialty Ale all fall into the 'Belgian and French Ale' style category.  The guidelines used presently were created in 2008, but a major revision is coming very soon which will expand the categories and styles to better reflect the expanding world of beer.  Because there are so many different styles, some competitions will limit what styles can be entered.  This eases the burden on the judges, and obviously requires fewer total judges and less total time.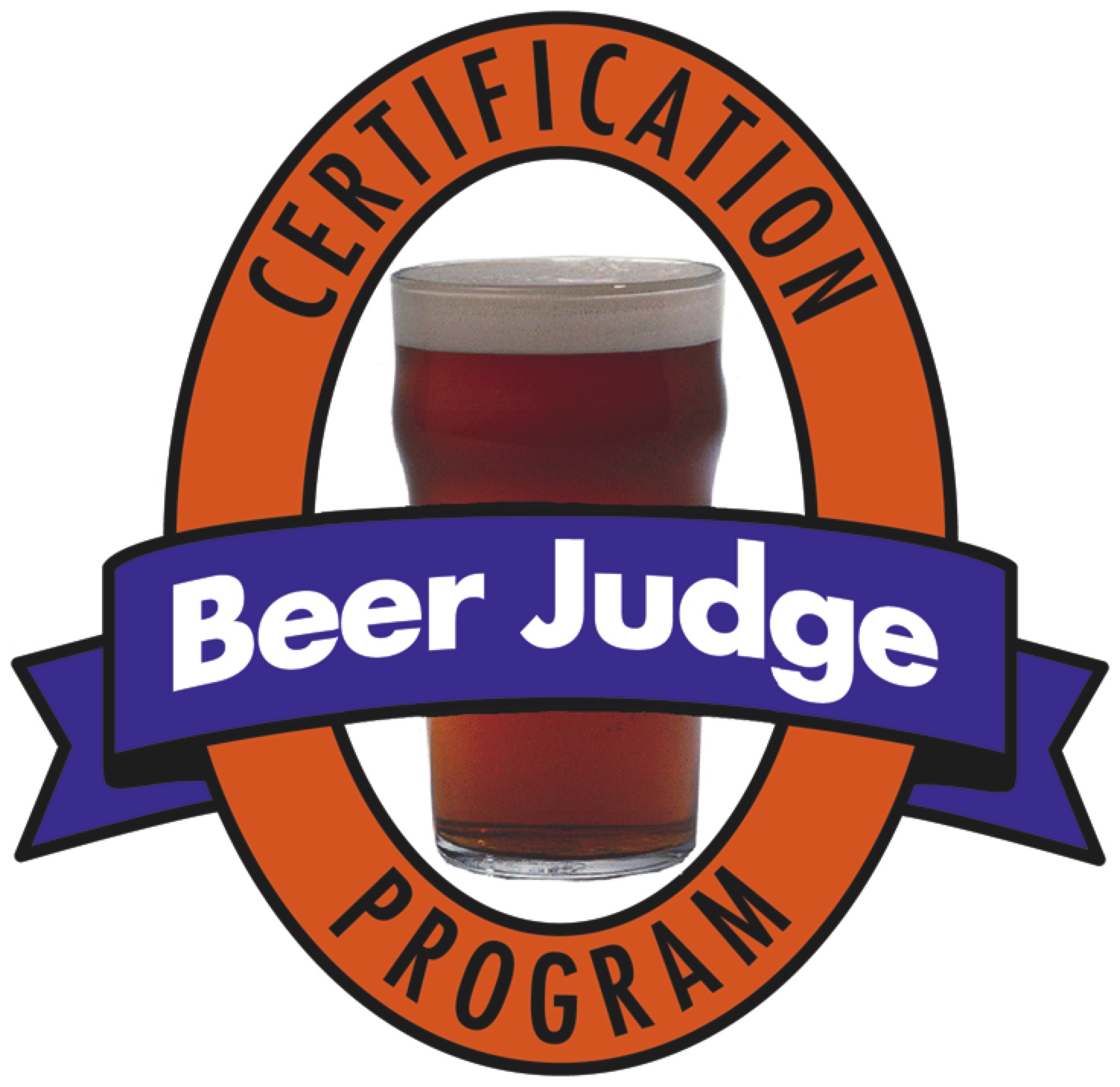 Judging is conducted in pairs.  Each beer entered into a competition will receive two score sheets, one from each judge.  One judge will almost always be a certified judge, and the second can be a novice, professional brewer, or celebrity judge, if not another BJCP certified judge.  Those judges that have been certified have undergone testing for their knowledge of beer, as well as a tasting exam where they score 6 beers in 90 minutes and their scores and remarks are compared to higher ranked judges who serve as proctors for the exam.  I can attest to the fact that the examination is no easy thing; with 200 questions to be answered in 60 minutes, you really have to know your stuff!
When judging a particular style, beers are presented to the judges in flights: One beer at a time, identified only by style and number of the entry.  Evaluation is done blindly and objectively as possible.  You have virtually no information about the beer in front of you save a few sparse notes like: 'Imperial stout with chocolate, vanilla, and sweet cherries' or 'American Pale ale with Brett', for example.  Judges must evaluate the aroma, appearance, flavor and mouthfeel of the beer, and then provide their overall impression of the entry.  Was the beer enjoyable?  Would you want to drink more of it?  Did you find any flaws in the beer, such as off-flavors?  Was the beer consistent with the style it was listed as?  If not, was it perhaps: Too dark?  Too light?  Too hoppy?
Your job as a judge is to evaluate the beer in front of you and give an honest, objective, impression of the beer.  Your job is also to provide feedback in a constructive manner to help and encourage the brewer to make improvements where needed, or praise them for their excellent efforts.  Being negative should not be part of the equation.
I am really a big advocate for the last bit of that:  provide good feedback.  Have you ever had a bad beer?  I know I have.  Imagine if you brewed a bad beer, and wanted to know how to fix it.  Ideally, judging is also troubleshooting, identifying faults and offering hints to correct them.  Did you know that certain people can be anosmic to certain aromas or unable to taste certain faults?   This is also part of why judging is done in pairs, just in case one cannot detect certain things.
One big fault that can be found in beer is diacetyl (though to be fair, it is acceptable in certain beer styles), it tastes and smells like movie theater butter, or even butterscotch.  It can be formed by certain bacteria, or mutated yeast.  When a fault is found, a judge should identify it, and then provide feedback on how to avoid that fault in the future.
Is it difficult?  Absolutely!  Imagine tasting 7-10 different beers of the same type and evaluating them individually.  Some could have a serious infection leading to unpleasant off flavors.  You could be evaluating IPAs or sour beers and your palate can fatigue from the strong flavors.  You may be assigned to a style that may be your least favorite to drink, but you must evaluate even these fairly and honestly while you provide good feedback.  You may be pressed for time because your flight was very large and there are many beers to judge.What's my take on it?
I love judging.  I've got a decent palate and can evaluate a beer pretty well.  My years of homebrewing experience certainly help with knowing how common faults occur, and my love of beer in general gives me a wide breadth of tasting experience to draw from as well.  In the past year, I spent time at least every other week evaluating beer for practice, filling out scoresheets, learning the BJCP guidelines inside and out, and learning to become a better judge.  We used a Siebel kit to introduce off flavors into beer and evaluate them.  We tried individual strains of Brettanomyces, Saccharomyces, Lactobacillus and Pediococcus to experience the pure strains of these brewing bacteria.  We tasted our way through nearly every style available (this is not something you want to undertake in a week's time, your liver will never forgive you).The online exam was difficult, and time management is of the essence.  Remember when I mentioned it was 200 questions in 60 minutes?  Yeah, time management!  The tasting exam was stressful, but I think I did well.  6 different beers in 90 minutes, some with faults, some which are classic examples brewed by commercial brewers.  They evaluate you on how far off you were from the proctor's scores, if you noted the same flavors, aromas, etc. and the quality of feedback you provided.It takes time to get ranking / tasting exam scores back.  I tested in mid-December, and will probably have to wait 4 months to hear back on my final score.  The exams are graded as a group so each grader has to do maybe 90 scoresheets total before they can send it along to the next grader.  It can be a very long process.I look forward to finding out how I scored, but hope to be fully Certified in the coming months once I get my score back.  Who knows..if I did well enough I may find that I qualify for the next round of testing to become a National judge in a year or two (that requires a bunch of judging experience points as well as a written exam).  Then again, I may just be happy getting to Certified. Time will tell…More information about the BJCP program can be found at BJCP.org.  Have questions about beer judging?  Fire them at us in the comments!