Oskar Blues Releases Barrel Aged Ten Fidy in Spectacular Fashion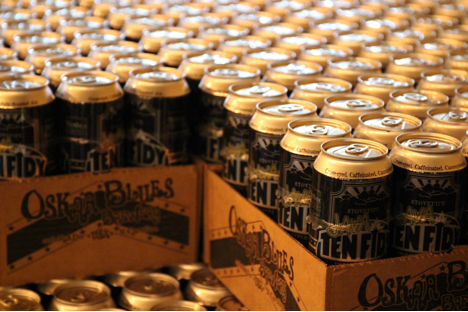 We joined the masses as Oskar Blues opened their Oak Room doors for the 2017 release of Barrel Aged Ten Fidy and Barrel Aged Java Ten Fidy. The event ran MUCH smoother than last year and not a single soul left without purchasing the cans they desired.
Last year OB admittedly dropped the ball, but they made up for it in spectacular fashion this time around. Wristbands were given out at 9:30am and OB officially opened the doors at 10:00am. For those needing an early morning wake-me-up, coffee was available from the in-house Hotbox Roasters and CyclHOPS Bike Cantina provided some killer breakfast burritos.
Oskar Blues called up groups of ten customers at a time, all while checking wristbands for orderly purchases. The entire process lasted about two hours from opening the doors until the last person from the original line got their allotment.
Stragglers had their choice from three pallets of each beer to purchase and everyone left happy. (Although, that might have been because the on-site pours were so cheap, and this year's version is better than the last. But, semantics aside, it was a well run event.)
Overall, the entire experience was wonderful. Unlike last year, everyone left with beer in hand and the wait was much more tolerable. We even were able to meet Colorado Beer royalty: Elaia the Brewery Cat.
Kudos to Oskar Blues for making the BA Ten Fidy release an event to rembmer. Keep a lookout in early December, as they'll be releasing Rum Barrel Aged Death by Coconut. We'll get you more details as soon as we can. Cheers!