American Craft Beer Week is Here!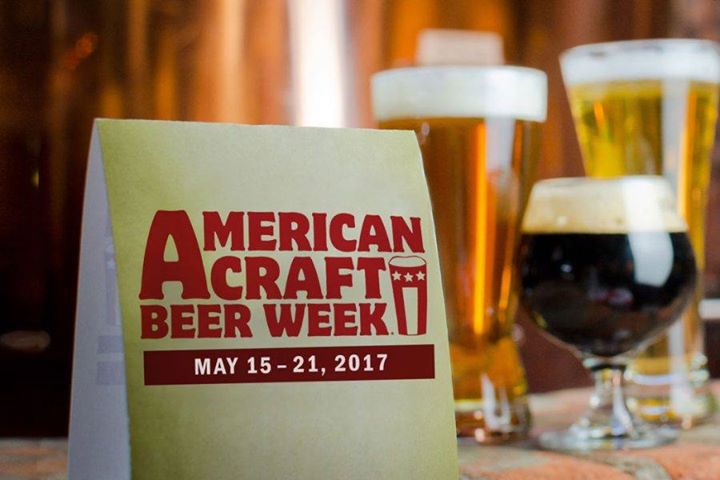 It's finally gotten warm enough to feel like summer is right around the corner, and it's a great thing because this week is American Craft Beer Week! There's a ton of great events celebrating small and independent brewers all over the country, but we have some pretty awesome things happening right here in Colorado Springs!
Here's some things you can't miss:
NOTE: We will continually update this as we learn of more events. This list is only what we've found or have been told about.
Monday
Nano 108: Roll Up Food Truck, Flight Night, Blueberry Cream Ale beer tappingPeaks N Pines: New Sap Tap at 5:30pm! The Honey (P)ale Ale is a medium bodied, 6.3% ABV, hoppy honey ale brewed with 3 pounds of fresh clover honey leaving heavy notes of sweet clover to satisfy the palate. Because s a 5 gallon Sample Tap, it will go fast! Try it starting at 5:30 tonight!
Tuesday
Smiling Toad: Go check out the work Biff and the crew has done to the place! A little birdie told us about 15 taps, a new bar, and beers (think Blood orange IPA, Coconut stout, a Rye IPA and more) released each day this week!Nano 108: Pickled Pit Stop Food Truck, Take tour with the brewer night, German Dopplebock beer tappingStorybook: $2 Storybook Logo glassBuffalo Lodge Bicycle Resort: Tuesday Tastings with High Hops BreweryGold Camp Brewing: Experimental Brewsday Tuesday Mango Blonde
Wednesday
Nano 108: Awaken Cambodian Food Truck, Keep the glass night, German Hefeweizen beer tappingFossil: Sapo Guapo Tacos, We will be tapping our Grapefruit version of everyone's favorite Cream Ale, Camarasaurus!Storybook: Blackberry Sour releaseFieldhouse: Test Tap Wednesday: Jalapeño Kölsch
Thursday
Nano 108: Johnny G's Delicioso Mexican Soul Food Truck, Special barrel aged beer release, Jim Beam barrel aged American Blonde Ale beer tappingFossil: Bison Brothers Food Truck, Cookie Tap Takeover, we love stouts and we love cookies! We brewed up our version of a Thin Mint Stout, Samoa Cookie Stout, and the famous Oreo Cookie Stout! Stouts on Stouts on Stouts, we have enough to go around and will be serving them in 12oz glasses rather than half pints, 32oz fills only, yeah we said fills!Storybook: Free spent grain treats
Friday
Trinity Brewing: Release of President's Club 2017' the fruitiest batch of Red Swingline aged on Palisade peaches & apricots.Nano 108: Pig Latin Food Truck, Patio Party & beer to go specials, Smoked Porter beer tappingFossil: Bite Me Gourmet Sausage, Nothing goes better with a Friday than our Hibiscus Gose! Brewed with real Hibiscus flowersStorybook: Small batch gose releaseFieldhouse: Dry Hopped Sour & the Mandarin IPA tapping.
Saturday
Nano 108: Witty Pork's Woodfired Pizza Food Truck, Nano 108 Game Day, Sight Challenged Hog IPA beer tappingFossil: Bite Me Gourmet Sausage, Our Trilobite Belgian Tripel is back! A very limited supply, head down early and grab a glass!Storybook: Bourbon Barrel Stout release
Sunday
Nano 108: Bison Brothers Food Truck, Keep the glass day, German Dunkelweizen beer tappingFossil: The Pickled Pit Stop, We finish up strong with our Kunda Baltic Porter! Our salute to the end of cool weather (fingers crossed)!Bristol: Wit Brunch: For $15 you get a refreshing pint of Wit, accompanied by a delicious buffet of scrambled eggs, french toast with orange marmalade, potatoes o'brien, bacon, and sausage.Storybook: Raspberry Gose release
And of course, you have to get around town to take part in Pints and Plates!This one-of-a-kind event pairs local craft beer with special dishes at Downtown restaurants. Each beer is created exclusively to pair with a special dish at their partner restaurant, and both are available only during this limited-time event.
Pairings for 2017 include:
Red Gravy & Red Leg BrewingVienna lager paired with orecchiette pasta in a light cream sauce.Wild Goose & Pikes Peak BrewingMeadowGrass Jam Session IPA with the Flying Buffalo sandwich.The Ritz & Fossil Craft Beer CompanyLemongrass and sage Belgian wit paired with a choice of steamed mussels or braised duck legs.IV by Brother Luck & Great Storm BrewingLucky Beotch pale ale paired with marinated hanger steak, salsa rojo, avocado puree and fingerling potatoes.The Warehouse & Red Leg BrewingBurton Extra ale paired with crispy confit rabbit "wings."Jack Quinns & Fieldhouse BrewingPale ale with New Zealand hops paired with a choice of New Zealand green-lipped mussels made three ways.Judge Baldwin's & Rocky Mountain BreweryPumpernickel Lager paired with Pumpernickel Lager-braised pork ribs with crunchy Caribbean slaw.Bingo Burger & Triple S Brewing Co.Rye-PA paired with a Bingo Burger with applewood-smoked, thick-cut bacon, Springside cheese and Pueblo chili hack cheese sauce.Springs Orleans & Bristol BrewingCheyenne Canon Pinon Nut Brown paired with grilled flat iron steak with ancho chili oxtail demi-glace, herb and goat cheese mashed potatoes and French green beans.Odyssey Gastropub & Smiling Toad BreweryPrickly pear gose paired with spicy coconut shrimp salad and pear-shallot vinaigrette.MacKenzie's Chop House & Peaks N Pines Brewing Co.Imperial Irish red beer paired with chef's special dish (see restaurant for details).Hopefully we see you out there this week!